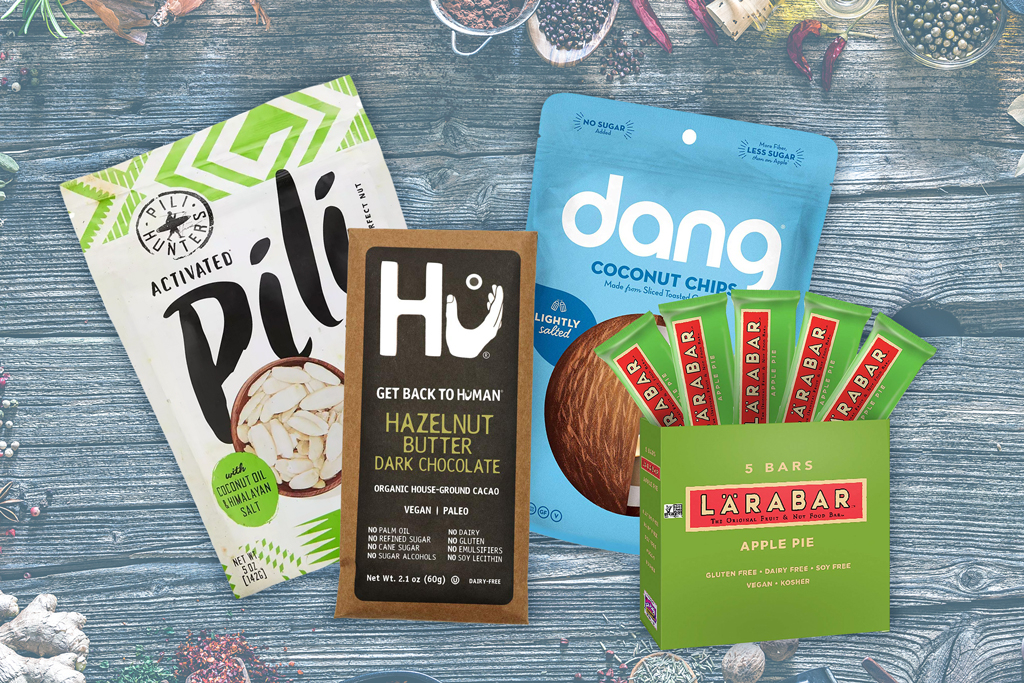 We love these products, and we hope you do too. E! has affiliate relationships, so we may get a small share of the revenue from your purchases. Items are sold by the retailer, not E!.
So you've taken the plunge and decided to go Paleo. Good for you! But have you figured out what you're going to snack on throughout the day?
Even though moderation is the key to dietary success, that doesn't mean you shouldn't snack…and that you shouldn't indulge every once in a while! And the best part is, you can indulge without blowing your diet. If you're craving popcorn, try some popped lotus seeds instead. Need some more crunchy options? There's some great flavors of grain-free crackers to choose from. How about something with a little heat? A ghost pepper pork and beef stick might do the trick. And chocoholics don't need to forego their favorite sweet treat, they just need to upgrade to one that has organic chocolate and unrefined coconut sugar.
To help you as you embark on your Paleo journey, we've picked out a handful of snacks that will satisfy all your tasting needs. Shop our faves below!
Hu Grain-Free Crackers (2-Pack)
Satisfy your need for crunch with Hu's junk-free crackers, made with almond, whole cassava and coconut flour. We love the Everything flavor, but they also come in Sea Salt and Pizza flavors. Yum!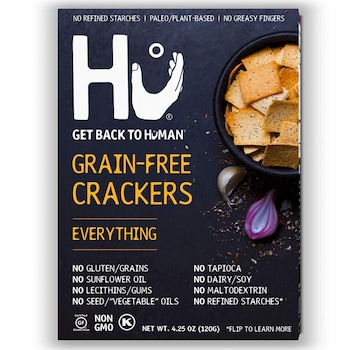 Hu Vegan Chocolate Bars (4-Pack)
If you're a chocoholic, Hu Vegan Chocolate Bars will be your salvation. The list of "no's" on this bar is longer than the actual ingredients list, but the most important is there's no sugar alcohol, cane sugar or refined sugar. The Dark Chocolate Sea Salt is a revelation, but to truly experience heaven on earth, go for the Hazelnut Praline. It tastes like a Nutella bar without the guilt and junk.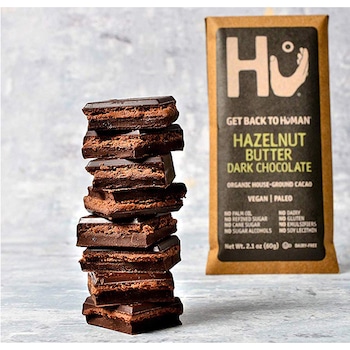 Lotus Pops (6-Pack)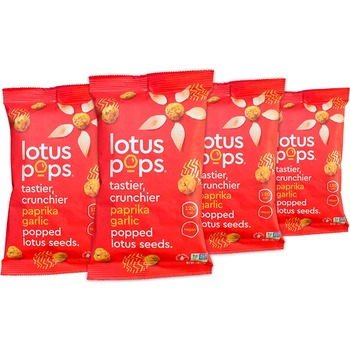 Dang Coconut Chips (4-Pack)
The perfect mix of salty and sweet, Dang Coconut Chips are made by slicing up coconut meat, toasting it, and seasoning it with sea salt… and that's it! There's just 1g of sugar per serving, which comes naturally from the coconut. Eat them solo or use them to top salads and other goodies for some extra flavor.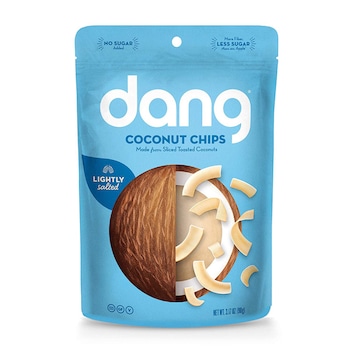 Artisan Tropic Sea Salt Plantain Chips (6-Pack)
Upgrade your chip game with some fresh-roasted plantains, lightly seasoned with sea salt to give a little balance to the starchy goodness of the plantains. If you want to jazz them up a little, try dipping them in olive tapenade.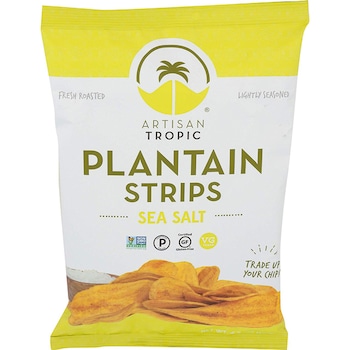 Pili Hunters Activated Nuts
High in those coveted Omega-3 fatty acids and loaded with nutrients including magnesium, calcium, vitamin E and so much more, these crunchy nuts are also rich in protein, so you'll feel fuller longer. With zero net carbs, how can you say no?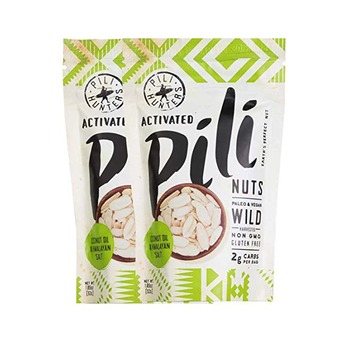 Larabar Apple Pie Bar (20 Bars)
Satisfy your sweet tooth—and pretend like you're eating apple pie—with this six-ingredient whole food bar. It's made of dates, almonds, unsweetened apples, walnuts, raisins, and cinnamon…and that's it! It's tasty, chewy, and great for when you're on the go.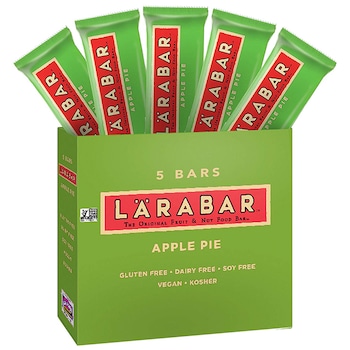 Chocolate Sea Salt RxBar (12-Pack)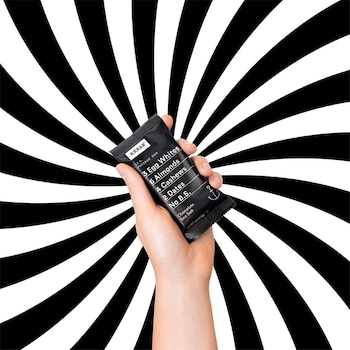 Garlic Kalahari Biltong (3-Pack)
Forget jerky—it's time to say hello to biltong, made with just six ingredients: top round beef, vinegar, salt, black pepper, chili powder and coriander. It's air dried, thinly sliced, and has zero carbs, zero sugar and 32 grams of protein. Whoa.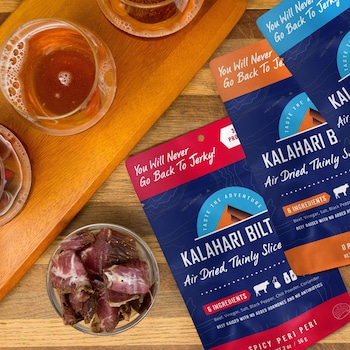 Chef's Cut Real Snack Pork and Beef Ghost Pepper Sticks (16-Pack)
We've covered sweet, salty, crunchy and meaty…how about something with a little heat? Chef's Cut has paired real cuts of beef and pork with the infamously hot ghost pepper for the spiciest meat stick ever, boasting seven grams of protein, one gram of sugar, and only 100 calories.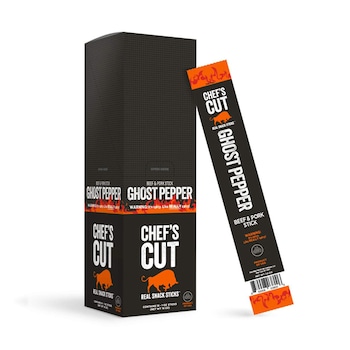 Cappello's Chocolate Chip Cookie Dough
Cappello's almond flour Chocolate Chip Cookie Dough is a grain-free, paleo-friendly dream for cookie lovers everywhere. This dough is sweetened with organic maple syrup and selectively sourced chocolate morsels for a delicious bite that can be eaten straight from the spoon or baked up.